Easy to make, protein packed salmon burgers make the perfect weeknight dinner or meal prep item the WHOLE family will love! Perfect for grilling season too.
Warning…these are not your mother's salmon burgers! Although my mom used to make these all the time, her recipe was pretty basic, yet delicious nevertheless. My patties are more veggie forward to add color and pack a punch of nutrient value. 
And here's a fun fact: did you know that most of the salmon in cans is wild salmon, a treat that you can't necessarily find all year through in the fresh version. The price of canned salmon is generally lower  than fresh and you still reap the benefits of those omega-3 fatty acids.
And as with most of my recipes, you don't have to use all of the ingredients listed below. Truth be told, I would have added chopped broccoli, carrots and whatever else I had in my refrigerator bin, but I threw these burgers together during our COVID-19 quarantine and I (sort of) tried to conserve ingredients so that I wouldn't have to shop as frequently.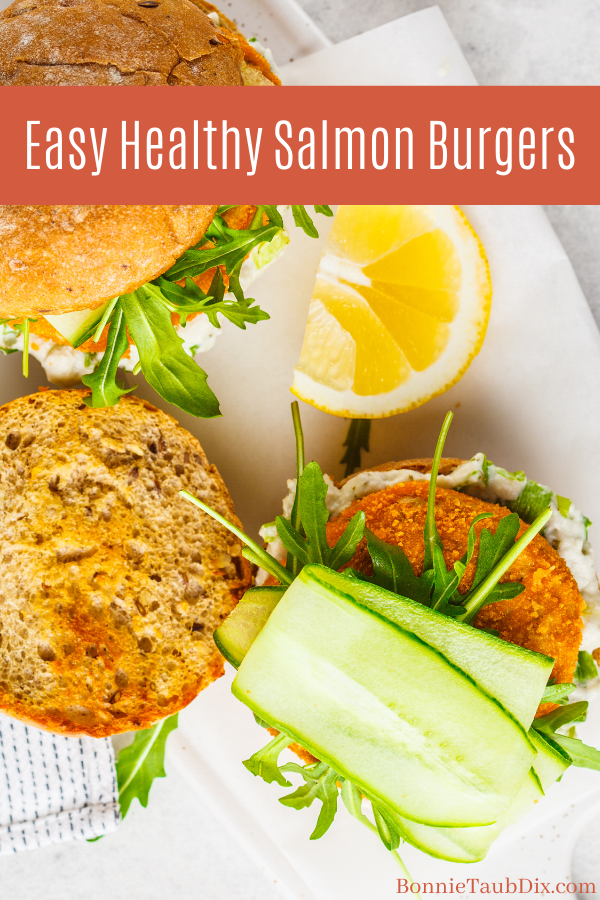 Salmon Burgers
Ingredients:
1 (14.75 ounce) can salmon, skinless and boneless, drained and flaked
1/2 cup whole wheat or plain panko breadcrumbs
1/4 cup chopped onions 
1/2 cup fresh spinach leaves, washed, dried and chopped
3 tablespoons each of red bell pepper 
3 medium garlic clove, crushed
1 tablespoon chopped fresh herbs, like dill or parsley
2 large eggs or 1/2 cup egg substitute
1 tablespoon grainy mustard
1 tablespoon horseradish sauce
1 teaspoon lemon zest
2 teaspoons sweet paprika
1/2 teaspoon smoked paprika
2 teaspoons lemon or lime juice
Salt and pepper to taste
1/2 cup sliced almonds (optional)
3 tablespoons extra virgin olive oil or avocado oil
Directions:
In a large bowl combine all of the ingredients except the oil.
For into 6-8 patties (about 1/2 inch thick)
Heat oil in skillet and cook patties until browned on both sides (approximately 4-5 minutes per side)
Serve on or off a whole grain bun with sliced tomato. Pair with your favorite salad.

 
Join the Newsletter
Tired of misleading and confusing nutrition and diet headlines? I don't blame you!
That's why I want to bring you clear-cut info you can rely on — just once a week — right to your inbox.
BONUS: Sign up today and I'll send you my favorite chapter of my book, Read It Before You Eat It – Taking You from Label to Table.
🛒 Food shopping will never be the same!