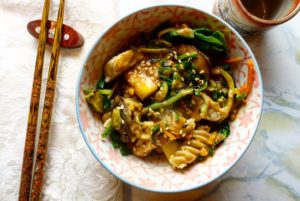 Zoodles have become wildly popular as a pasta look-alike that's lower in carbs and higher in fiber, vitamins B6, C, and K aa well as riboflavin, folate, magnesium, potassium and manganese. As a pasta lover, I enjoy tossing in some whole wheat pasta along with my zoodles, but this veggie can certainly stand alone, especially when topped with this crunchy, tangy almond sauce. I also like to use almond milk to thin the sauce without diluting down its flavor. 
You can make this dish more of a main by adding chunks of grilled poultry, fish or seafood. And if you're looking for a delish vegan or vegetarian dish, boost protein by topping with sautéed tofu or top with a can of your favorite beans. 
Ingredients:
3 medium zucchinis
4 cloves chopped garlic
1 tablespoon avocado or olive oil
1/2 cup chunky almond butter
1/4 cup unsweetened Almond Breeze almondmilk
2 tsp low sodium soy sauce
1 tablespoon honey or agave (if you're vegan or vegetarian)
1/4  teaspoons sesame oil
1 teaspoon lime juice
1/2 tsp rice vinegar
1/4 tsp finely chopped ginger
1/2 teaspoon garlic flakes
1-2 drops chili oil (optional)
sprinkle of black & white sesame seeds (optional)
Makes 1 cup of sauce to top zucchini.
Directions:
Turn zucchini into noodles (zoodles) using a julienne peeler or spiralizer.
Heat oil in a skillet and sauté zoodles over med-high heat for 4-5 minutes. Set aside.
Mix together ingredients for almond sauce including almond butter through garlic flakes (the addition of chili oil and sesame seeds are optional.)
Toss zoodles with sauce and serve warm or cold.
Disclosure: I enjoyed partnering with > Almond Breeze almond milk to create this recipe.