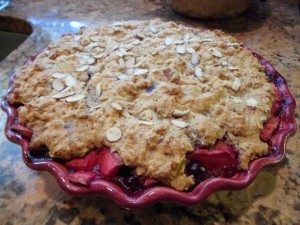 Have you ever wondered where the saying, "An apple a day keeps the doctor away," originated? Likely when an 1866 edition of Notes and Queriesmagazine published the saying: "Eat an apple on going to bed, and you'll keep the doctor from earning his bread."
Eating apples may not cause your doctor to go out of business, but regular consumption of this fruit might prevent you from needing to visit as often. Apples could help boost your immune system, since they contain vitamin C and other antioxidants like quercetin, which may also protect brain cells against Alzheimer's disease. Apples are heart-healthy, too, as they contain soluble fibers and phenols, which help reduce cholesterol levels. Nicknamed "nature's toothbrush," this fruit shields teeth from decay-causing bacteria when chewed. And if you're experiencing diarrhea, the pectin in apples, especially in the form of applesauce, can curtail that uncomfortable gastrointestinal disturbance. Aside from their health benefits, apples are crunchy and delicious, thereby providing a satisfying snack that can halt hunger.
For some people, "apple" may conjure images of mobile phones and computers, but around my home, when the leaves hit the ground, we know that apples will make regular appearances on our menu.
Fall is the perfect season to create a family adventure by going apple picking and then enjoying the fruits of your labor by creating palate-pleasing recipes together. Although apple pie is an American favorite, this is a great time to try a tasty treat that packs fewer calories and is just as delicious.
I'd like to share my guilt-free family fave: apple cobbler. My version is made with whole-wheat pastry flour to add some whole-grain goodness and fiber. It only calls for a half stick of butter, and although I prefer the taste of butter, if you'd like to decrease your intake of saturated fat, you can use canola oil instead. Add some crunch by topping it with sliced almonds. As with any treat, though, be mindful of portion sizes.
Apple Cobbler
3 cups Granny Smith apples, peeled and sliced
3 cups Fuji apples, peeled and sliced
1 tablespoon lemon zest
¼ cup brown sugar
1 teaspoon cornstarch
1/2 cup whole wheat pastry flour
1/4 cup granola
½ stick butter, softened and cut into small pieces (or ¼ cup avocado oil)
½ teaspoon salt
1/4 cup Turbinado sugar
2 teaspoons baking powder
½ cup buttermilk (or ½ cup plain Greek yogurt)
1 egg or 2 egg whites
2 tablespoon toasted almond slices (or your favorite chopped nuts)
scoop of frozen yogurt (optional)
Directions:
1. Mix the apples with brown sugar, lemon zest, cornstarch, and ¼ cup of the flour mixture.
2. Whisk salt, baking powder, granola and sugar into the remaining flour.
3. Cut butter into dry ingredients until the mix resembles coarse cornmeal.
4. Make a well in the center of the dry mix and pour in buttermilk (or plain Greek yogurt) and add egg or egg whites. Stir together quickly.
5. Spray a 9 x 12 x 2-inch pan with cooking spray and fill it with the apple mixture.
6. Top it with dollops of the flour mixture.
7. Sprinkle toasted almonds evenly across the top.
8. Bake at 400 degrees Fahrenheit for around 40 minutes or until topping is golden brown and fruit is bubbly.
9. Top with a scoop of frozen yogurt (optional).