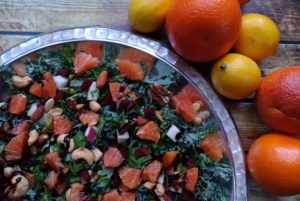 As a mom of three, I faced a few tough table-time challenges. One example that stands out, was when my middle son refused to eat salad. Can you imagine that…truly a nutrition nightmare for a nutritionist mom! I knew I had to think of a way to attract him to that bowl without making our kitchen a battleground.
As a solution, I kept in mind that my son was a citrus fruit fan. So I gave him a bowl of Cara Cara Oranges while the rest of us had a medley of salad veggies topped with the same fruit. I felt comforted in knowing that at least he was still getting the wealth benefits that citrus fruit provides.
Then slowly and regularly, I added some greens to his citrus bowl, and then included some tomatoes, and so on, until he became a salad-lover like the rest of us! Now he's 6'4" and he is making and buying his own salads, most of which, by the way, contain a variety of his favorite citrus fruits!
Cara Caras are an excellent source of vitamins C and good source of fiber, folate and potassium. Moreover, Cara Caras provide 20 percent more vitamin A than other oranges, a nutrient essential for good vision and to support healthy skin. Cara Caras also supply lycopene, a powerful antioxidant that may help reduce risks of heart disease, diabetes, age-related macular degeneration and prostate cancer. Besides bearing a beautiful reddish-orange sweet flesh, Cara Caras are seedless; a trait enjoyed by adults and kids.  Citrus fruit, in general, by the way, are members of a family of fruit that healthfully hydrate. Although particularly essential in warm climates, adequate hydration is important year through, for all ages.
Besides contributing a wealth of valuable nutrients, did you know that the vitamin C in citrus fruit also boosts the absorption of the iron that's in leafy greens? Read more about the benefits of juicy citrus fruits at Sunkist.com.
Salad, Meet Citrus
 Ingredients:
 1 cup each of fresh kale, spinach and arugula – washed and spun dry
6 leaves of fresh mint – washed, dried and chopped
2 Sunkist Cara Cara Oranges – peeled and cut into pieces
1 small fresh beet – peeled and cut into cubes
Jicama – ¼ cup – peeled and cut into cubes
1/2 avocado – cut into slices
Nuts – small handful, unsalted
Balsamic glaze – drizzle
Directions:                                             
Place greens (Including mint) on a large platter or in a large salad bowl.
Top bed of greens evenly with Cara Cara oranges, beets, jicama, and avocado.
Top with nuts.
Squeeze balsamic glaze decoratively over salad.
Serves 4 (for side salad)
Disclosure: I was thrilled to partner with Sunkist to bring you this post and my opinions are my own.