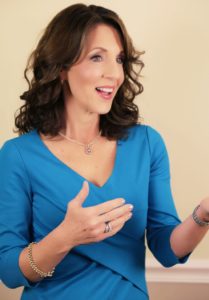 Ever since I was a child, I loved telling jokes. It was exhilarating for me to be able to make people laugh and bring smiles to the faces of friends and family.
Over the years, this thrill of moving an audience by painting pictures with words and by bringing humor to my real-life stories and experiences continued to shine through in my presentations and workshops.
Whether it's a keynote address, full- or half-day workshop, webinar, or lunch and learn, or a multifaceted corporate wellness program, my specialty is being able to address the particular needs of each audience. It doesn't matter if it's a huge lecture hall or an informal roundtable…all participants will feel comfortable and welcomed.
What Others are Saying:
Health and weight loss tips never tasted so good! Bonnie was a featured expert guest on The Best People We Know Show with rave reviews! Listeners connected with her practical , creative and realistic strategies to be successful in achieving their weight loss goals. Bonnie is an authentic expert who knows how to help people formulate comfortable expectations for their unique lifestyle. She is a gifted communicator which any audience will find valuable and unforgettable. Hire Bonnie today! Deb Scott, BA, CPC
http://www.greenskyandbluegrass.com
As a motivational speaker, I bring inspiring messages and hands-on tips to help any group of people, at any age, to unite delicious foods and healthy habits in a realistic fashion. My past presentations and workshops have catered to the needs of top level producers, middle management employees and ancillary staff — each an integral part of a team and all deserving to learning how to care for themselves and enjoy a sense of well being.
Here's a slice of some of the topics I enjoy speaking about:
Time To Get Social….The Ins & Outs of Twitter, Facebook, Pinterest & LinkedIn
How To Mind Your Own Business
The Good, Bad & the Ugly of Working with the Media
Everything you Wanted to Know about Nutrition (but didn't know who to ask)
Life Lessons: Feeling Good both Inside and Out
Why Diets Don't Work…and What Does
Emerging Food Trends: What's Hot and What's Not
Food for Thought: How your mood will influence the foods you select and how the foods you select will influence your mood
Nutrition News You Can Actually Use
Eat to Your Heart's Content: How your diet influences your heart's health
Diabesity: The safest way to control the diabetes epidemic in adults and children
For Women Only: Special Health Issues
Men's Health: Special Health Issues
Nutrition for the Active and the Athlete
How to Set An Example When you Set the Table: How to teach your kids to eatsmart
A Toast to Good Health: How to Avoid Overeating Over the Holidays
Disordered Eating: What's Eating You?Restaurant Dining and Ordering In without Getting Stressed Out