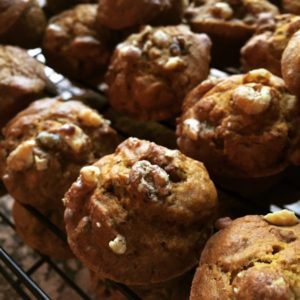 Back to school and back to the Fall usually means that when the outside temperature goes down…my oven heats up! Chilly and gloomy days call for a pick-me-up for the after-school crowd and that often means muffins are on the menu. So bake a few extra sweet potatoes in the oven tonight when you're making dinner and try your hand at some muffins tomorrow. Freeze a few and enjoy them paired with cottage or ricotta cheese for breakfast, too.

Sweet Potato Bread/Muffins
Ingredients:
1 cup whole wheat pastry flour
2-1/3 cups all-purpose flour
1 Tablespoon baking powder
2 teaspoons baking soda
1 teaspoon salt
1 teaspoon ground cinnamon
1 cup granulated sugar
4 egg whites
½ cup avocado oil
½ cup plain kefir
1 tablespoon pure vanilla extract
2 large eggs
2/3 cup water
2 cups mashed sweet potatoes (4 small)
1/3 cup sliced almonds
¾ cup chocolate chips (optional)
Cooking spray
Directions:
Preheat oven to 350◦F
Spoon flours into dry measuring cups and level with a knife.
Whisk together with the next 4 ingredients (through cinnamon) in a large bowl.
Combine sugar, egg whites, oil, kefir, vanilla extract, and eggs in a large bowl and beat with a hand mixer at a high speed until blended.
Add water and mashed sweet potatoes, beating at a low speed until blended together.
Add flower mixture to sweet potato mixture and beat at a low speed just until combined (don't over mix.)
Stir in chocolate chips, if desired.
Coat 2 loaf pans (9 X 5 inch each) or muffin tins (24 muffins) with cooking spray. Spoon batter into pans and fill half-way. Sprinkle almonds evenly over batter.
Bake breads (in loaf pans) for 1 hour or until a wooden pick inserted in center comes out clean, or bake muffins (in muffin tins) for 20 minutes and check as above. Cool in pans for 10 minutes and then remove from pans and cool on wire rack.
Yield is either 2 loaves or 24 muffins. (On a personal note, I make one loaf and use the rest of the batter for muffins. The loaf goes in the freezer and the muffins barely stay on the countertop long enough to cool!)