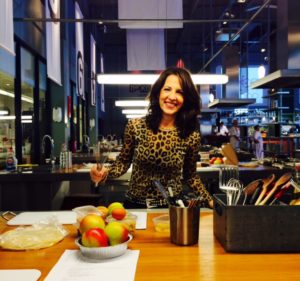 I have been guiding clients for over three decades. I've never relied on allow/avoid lists, strict programs, or a cookie-cutter approach to counseling. Instead of an authority figure, I prefer that the person sitting at the other side of my desk or sitting in my audience sees me as a mirror…a way to understand themselves more clearly.
My goal is to help my clients become mindful of and responsible for their food choices — whether it's at the supermarket, at their desks, in a restaurant, or in their own kitchens.
The marriage of feeling good about what you eat coupled with how that food makes you feel, physically and emotionally, is a relationship I can help make last throughout your lifetime.
The word "diet" in Greek means "way of life," so it's not just about what you weigh…it's the way you live that counts.
This is just a taste of some of the topics we can explore together:
Weight Control and Maintenance
Cooking Tips and Culinary Skills
Eating Disorders/ Disordered Eating
Exercise and Energy Seeking
Family Nutrition Issues
Lifestyle, Wellness and Beauty Tips
Medical Nutrition Therapy including Diabetes, Heart Disease,  Cholesterol Control, Gastrointestinal Disturbances
Men's Health Issues
Menu Selecting/Restaurant Dining
Pediatric and Adolescent Nutrition
Pre-Natal and Post-Natal Health
Travel Tips and Techniques
Women's Health Issues