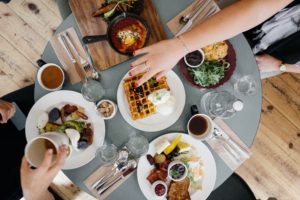 What do you think of when you see or hear the words "New Year, New You?" I've seen (and written) many stories on this subject, yet there are times when I find those words offensive. After all, what's wrong with the old you? Sure, we could all use a few improvements here and there, but perhaps it's time that we toasted to our strengths instead of our shortcomings.
Looking back on the past year, we were bombarded with headlines that told us about all the foods we shouldn't eat, and all the exercise we're not getting enough of, and all of the candidates that didn't get elected. (Okay, sorry about that last one — let's not go there.) But what about the positive changes you made last year? Did you skip your favorite dessert after dinner because you felt too full? Did you take the stairs because you didn't want to wait for the elevator? Did you not eat the food off of someone else's plate?
If you answered 'yes' to any of those questions, then you should give yourself a little pat on the back. It's not easy to adopt healthy habits, so even subtle strides should be applauded. Then you can hope that those good habits will become magnetic; once you realize that it wasn't too painful to make a positive change, you may attract similar actions.
How to Swap Resolutions for Solutions in 2017
It's pretty simple: Eat with your stomach first, and then invite your mind, mouth, and wallet to join in. All too often we eat food because it looks good, smells amazing, reminds us of a food memory we don't want to pass up, or we paid for it and we don't want to leave anything on the plate. When consuming a typical restaurant meal consisting of a beverage, bread and butter, an appetizer, an entree, and a dessert, there's a good chance that your stomach will be ready to go home about half way through that meal, even if your senses may want to stay and finish every last bite. That's because your stomach is about the size of two of your fists. In other words, it probably got full after the appetizer course, while your mouth had room for more.
It's essential to try to recognize what fullness actually feels like and stop eating at that point. This exercise could help you eat more mindfully and feel satisfied — physically and emotionally — without overeating.
It's been said about 50 percent of the population makes resolutions each New Year, but by February, we slide back to our faulty habits. Perhaps if you take one realistic step at a time, you can forge ahead confidently instead of slipping. It's a great time to ditch resolutions and  find real solutions.