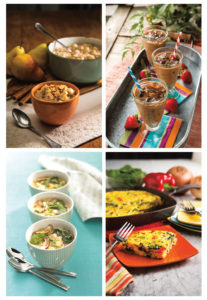 Don't wait for a holiday to spark an upgrade to your daily habits. Whether it's a slight modification in your everyday routine or a total makeover of one of your typical faulty practices, it's never too late to put your best food forward and create a new habit with a healthy twist.
Interestingly, the word "diet," actually means "way of life" — which tells us that we should be incorporating our diets into our lives and not trying to change our lives to fit our diets. Super restrictive diets are called fads for a reason…they may be fast but they don't last.
So here are some of my fave tips to help you make a few changes your body will thank you for:
   1    Shop smart: Create a master shopping list; craft and save a list on your computer that reflects the flow of the aisles of your favorite store to prevent backtracking and to save time, money and maybe even calories. Make the most of the middle aisles and don't just shop the perimeter (and you'll find key foods like almond milk in both places). Be sure to flip your packages to read food labels and keep your shelves and fridge stocked so that you don't run out of the foods your family loves.
   2    Connect with your kitchen: Even cooking only part of the meal will bring pride and a greater chance that you'll eat something healthy; buy chicken that is already barbecued, beans that come in cans, and veggies that are already washed and chopped so that you could seamlessly incorporate them into simple recipes. Purchase a few reliable, yet basic pots and pans that you can rely on. You don't have to be an iron chef to create delicious dishes, you just have to be willing to throw them together!
   3    Have food-related convos with your kids: Food is a glue that brings families together. Take advantage of teachable moments in the supermarket, at the countertop and at the table. Conversations surrounding self-care through a healthy diet will provide life lessons that can be even more important than those learned in some classes in school.
   4    Choose foods that are versatile: Search for foods that you can weave into a number of recipes so that you don't have to over-shop (which could lead to overspending and food waste.) One example is Almond Breeze Almondmilk, which you can use in so many ways (smoothies, soups, sauces, quick beverage, etc.) to meet your whole family's needs. Plus, you can stock up your pantry with the shelf stable Almond Breeze cartons, which lasts unopened for up to a year, so you'll always have this pantry staple on-hand for anywhere from soups to stews to smoothies!
   5    Get social: Disconnect from your devices and do something to connect with others — try a cooking party with friends or family, put on music and dance together, or join a book club or arrange fun scavenger hunts with neighbors. Just do something to move your body and stimulate your mind without the use of electronics.
Disclosure: I enjoyed partnering with Blue Diamond Almonds for this post and my opinions are my own. Please visit AlmondBreeze.com for recipe ideas and further info.